Hace unos días, tras algunas recomendaciones que sabiamente Netflix te hace, descubrí la película 'The Young Victoria', dirigida por uno de mis cineastas favoritos, Jean-Marc Vallée ('Alma Salvaje', 'Dallas Buyers Club'). Estrenada en 2009, cuenta los primeros años en el trono de la Reina Victoria, una de las monarcas más importantes en la historia de Inglaterra, y que es conocida con el apodo de 'la abuela de Europa'.
En primer lugar, tengo que reconocer que desconocía por completo la historia de esta mujer, así que fue una grata sorpresa. Investigando sobre ella y su parentesco con la actual monarca descubrí que Isabel II es su tataranieta, y que ambas han sido comparadas en numerosas ocasiones. Parecen ser muy similares ya que ambas han tenido un muy duradero tiempo de reinado y se caracterizan por ser mujeres valientes y con gran fortaleza, que han sabido liderar su país con bastante destreza.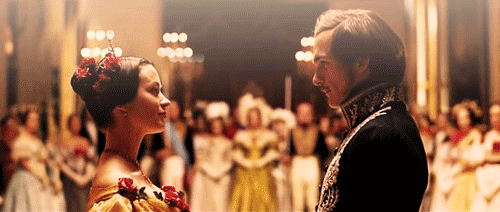 Gracias a la cinta, descubrí que la fama que se le otorgó a la Reina Victoria no había sido por casualidad. Supo convertir a su país en la principal potencia económica en el siglo XIX, y se las apañó para salir airosa en un momento en el que la Revolución Industrial estaba en plena explosión. Fue uno de los mejores periodos de Inglaterra, y se le conoce como la era victoriana. Además, en su deseo por extender la corona y el imperio británico, organizó la mayoría de las bodas de sus hijos y nietos con importantes casas reales europeas, y fue así como consiguió su apodo.
Para resumir, 'The Young Victoria' es una cinta especialmente indicada para aquellos que aman el cine de época. No obstante será también de gran interés para los que buscan una historia sobre la vida de una poderosa mujer.
Lo mejor: su cuidada ambientación, el vestuario (por el que ganó un Oscar) y la interpretación de Emily Blunt en el papel de la Reina Victoria.
Lo peor: fue tachada de ser políticamente muy correcta.
Si te gustó esta película, también podrían gustarte:
– La serie 'DowntonAbbey'
– La serie 'The Crown'
– Adaptaciones de las novelas de Jane Austen como 'Orgullo y prejuicio', 'Emma' o 'Sentido y sensibilidad'.
---
You can read this post in English too!
A few weeks ago, I watched a very interesting movie, directed by one of my favourite movie makers, Jean-Marc Vallée ('Wild', 'Dallas Buyers Club'). The movie is called 'The Young Victoria' and it was premiered in 209. It's about the early years of Queen Victoria's reign, one of the greatest Queens in England¡s History, who is also known with nickname of 'the Europe's Grandma'.
First of all, I have to recognize that I didn't know anything about her, so I found her story very surprising. After watching the film, I searched on the Internet in order to find the relationship between Victoria and the currently Queen of England, who is her great granddaughter Elizabet II. In fact, both women have been compared several times because they seem to be quite similar. They both have very courageous and strong women, who have leaded the country with great intelligence.
Thanks to the movie, I have understood why Victoria is considered one of the greatest Queens in England history. She knew how to consolidate her country as one of most important ones in terms of Economy in the 19th century. Also, she managed to reign in a moment when the Industrial Revolution had exploded. It was one of the best periods in England, the victorian era.
Furthermore, she was so clever and she extended her crown and her reign all across the continent, by arranging her children and granddchildren's weddings with different and very important Kings and Queens.
To sum up, 'The Young Victoria' is a great movie specially recommended for the ones who love History, but it will be very inspiring for those who are interested in powerful women's lives too.
The best: its great atmosphere, its costume (who was awarded with an Oscar) and the interpretation made by Emily Blunt, in the role of Queen Victoria.
The worst: it was said that the movie was too correct.
If you liked the movie, you will enjoy these:
– Downton Abbey (TV series)
– The Crown ( TV series)
– The adaptations of any Jane Austen's book, like 'Pride and Prejudice', 'Emma' or 'Sense or Sensibility'